BCA's Road to Paris Programme Paves the Way for Mammeri Siblings' Olympic Dreams
MAURITIUS INTERNATIONAL SERIES 2023
The Badminton Confederation Africa's (BCA) Road to Paris programme has been yielding impressive results as young talents like Koceila and Tanina Mammeri continue to shine on the international stage. The dynamic duo from Algeria showcased their skills at the recently concluded Mauritius International Series 2023, where they clinched a precious silver medal in the Mixed Doubles category. Their outstanding performance has raised hopes for their qualification to the Paris 2024 Olympic Games.
The Mammeri siblings faced fierce competition throughout the tournament, demonstrating their determination and resilience. In the finals, they narrowly missed the gold, losing to the formidable Indian pair of Hariharan Amsakarunan and Varshini Viswanath Sri with a score of 16-21, 17-21.
On their way to the finals, they triumphed over another Indian pair, Shivam Sharma and Poorvisha S Ram, in the Semifinals with a score of 21-18, 21-16. Earlier, in the quarterfinals, they faced Mahd Shaik and Khadijah Kawthar from Saudi Arabia, securing a victory of 21-19, 21-10. The round of 16 witnessed an impressive victory against Robert White and Deidré Laurens from South Africa, with scores of 21-9, 21-13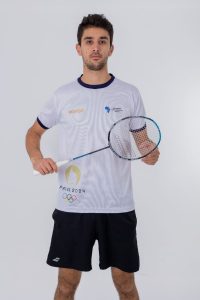 "I am really happy and confident that I managed to find my tempo with my increased participation in tournaments; We have been travelling a lot for the past few months and today we can see that it is bearing its fruits with the results.  The toughest part is yet to come as we have to maintain the performances and keep on aiming higher. I want to thank the BCA for their endless support in helping us achieving our dream." – Koceila told BCA TV.
With two titles already under their belt this year, namely the XIII Santo Domingo Open 2023 and All Africa Individual Championships 2023, the Mammeri siblings have made a strong statement in the badminton world.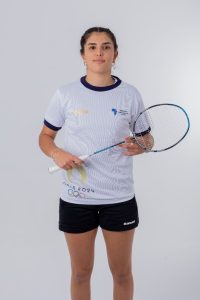 "Without discipline and a proper goal, we would not have reached up to this level today", Tanina toId BCA TV. "I want to thank my brother and partner who has been on my side on this long journey as we share the same goal which is to qualify for the PARIS OLYMPIC GAMES. We are trying our best in order to get this qualification and we are aware that it's going to be a tough challenge, but we are prepared for it." she added
The performance of Koceila and Tanina Mammeri serves as an inspiration to young badminton players across Africa. Their journey exemplifies the rewards of hard work and dedication, as they continue to raise the bar for African badminton on the global stage.
…………………………………………………………………………………………………………………………………
Other beneficiaries of the BCA Road to Paris programem who took part in the Mauritius International Series 2023 also posted notable results.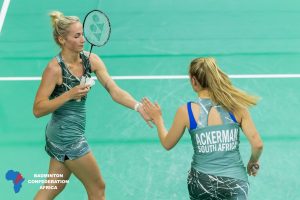 The formidable Women's Doubles pair of Amy Ackerman, also known as Bridgeton, and Deidré Laurens from South Africa had to settle with a bronze medal after losing in a thrilling 3 games match against Srivedya Gurazada and Ishika Jaiswal from USA 21-15, 10-21, 6-21.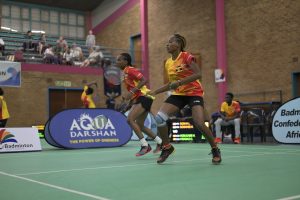 The South African pair played Husina Kobugabe and Gladys Mbabazi from Uganda in an electrifying quarter final match which concluded in about 55 minutes 18-21, 21-19, 21-18.
 "It was a good tournament for us as we managed to reach the semis and collected some precious points which will undoubtedly help our rankings. The road was not easy as we played the Q. Finals against our friends from Uganda Husina and Gladys, and we succeeded to win in the deciding game 21-18. The semi-finals also went to three sets in favour of the Americans and now we should take this moment to go back and work on some aspects in order to come back stronger." said Deidré to BCA TV.
Other results:
Men's Singles
Round of 32
Anuoluwapo Juwon OPEYORI (NGR) vs Dumindu ABEYWICKRAMA (SRI)
13-21, 11-21
Round of 32
Viren NETTASINGHE (SRI) vs Georges Julien PAUL (MRI)
21-13, 21-16
———————————————————————————————————————-
Men's Doubles
Round of 16
Matthias KICKLITZ & Max WEISSKIRCHEN (GER) vs Koceila MAMMERI & Youcef Sabri MEDEL (ALG)
21-17, 22-20
———————————————————————————————————————-
Women's Singles
Round of 32
Ozge BAYRAK (TUR) vs Johanita SCHOLTZ (RSA)
21-13, 21-8
Round of 32
Nour AHMED YOUSSRI (EGY) vs Yasmine HAMZA (ITA)
11-21, 21-11, 17-21