The BCA is pleased to announce that Deidre Laurens Jordaan from South Africa has been elected as the new Chair of the BCA Athletes' Commission. Deidre is a highly respected badminton player and coach with extensive experience both on and off the court. She is committed to promoting the interests of African badminton players and ensuring that their voices are heard within the BCA.
As Chair of the Athletes' Commission, Deidre will work closely with two other members, Tejraj Pulto from Mauritius and Adham Elgamal from Egypt, to represent the interests of African badminton players and promote the development of the sport in the region.
Deidre has represented South Africa in several international badminton tournaments, she started playing Badminton at a young age due to her father and grandfather's interest in the sport. She participated in the Junior local circuit but unfortunately suffered a torn ACL in her left knee at 17, leading to her taking a break from the sport until she resumed her career in 2017 while attending university.
In 2020, she was selected to represent South Africa for the first time and has since remained on the team. Deidre started playing doubles with Amy Ackerman in 2022 and they achieved a silver medal in Women's Doubles at the Continental Championship in Uganda qualifying for the BCA Road to Paris 2024 Olympic Games Scholarship.
Deidre and Amy Ackerman also won the title and gold at the All-Africa Continental Individual Championships this year on their home ground in SA, with their highest WR being 70 for WD. Additionally, Deidre achieved a Team Bronze Medal in 2020, 2021, 2022, and 2023, and a bronze with Robert White in XD at AASC 2023.
The BCA Athletes' Commission aims to represent African badminton players and advocate for their interests within the organization. It provides advice and feedback on issues such as competition schedules, equipment, and athlete welfare. The commission also focuses on promoting and supporting the development of badminton in Africa, especially among youth and underrepresented groups.
Additionally, the commission encourages ethical behavior and fair play among African badminton players, as well as promoting anti-doping and anti-match-fixing initiatives. Finally, the commission collaborates with other badminton organizations and commissions regionally and globally to promote the sport and improve conditions for African players.
We would like to thank the outgoing Athletes Commission members, for their hard work and dedication to the Commission.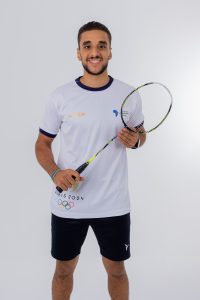 We are confident that Deidre, Tejraj, and Adham will continue to build on the important work of the commission and make a positive impact on African badminton.
Adham Hatem Elgamal is a top badminton player and a great ambassador for sports in Africa and Egypt. He aims to support African badminton players and share his experience and knowledge as a member of the athlete's committee. He is proud to be African and wants to give back to the continent that has given him so much.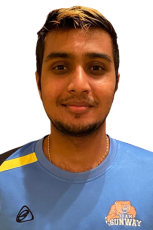 Tejraj Pultoo is eager to join the athlete's commission to ensure that every athlete's voice is heard in Africa. He believes that the commission's role is to support athletes not only in their sporting careers but also in their post-career. Tejraj's main priority is to help both players and the organization prosper while demonstrating Africa's capability. He sees the athlete's commission as a clear indication of an organization's commitment to good governance, which benefits both athletes and the organization.
Please join us in welcoming Deidre Laurens Jordaan as the new Chair of the BCA Athletes' Commission and wishing the entire commission success in their work.