The badminton competition at the Birmingham Commonwealth Games 2022 kicked off on the 29th of July at the NEC hall, with the Mauritian African Champion Julien Paul taking on the World Champion LOH Kean Yew from Singapore. Julien Paul, just recovering from a nasty Achilles tendon injury sustained at the African Championships, gave a good account of himself but went down 21-10, 21-12. Singapore went ahead to win the tie with a 5-0 score.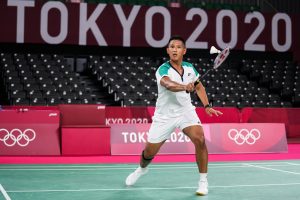 "It felt great playing the World Champion. He is one of the best in our sport, and I enjoyed every point. My confidence grew when I got the first point in the Match. It Motivated me to push for more. I was saying to myself, just one more point, one more... Said an excited Julien.
Drawn in group B with Barbados, third seeds England and Singapore, Mauritius managed to register a 4-1 win over fellow islanders Barbados to take third place in the group.
" I am happy to be back after my injury! I can play badminton again, and I can play well at this level, he added. Now turning my focus to the upcoming individual event." 
Julien might meet Brian Kasirye from Uganda in the round of 16
if he overcomes the young and talented Caden Kakora of South Africa, who already has a win under his belt at the games after upsetting Zambia's Kalombo Mulenga 2-1 in the group stages of the mixed team event.
"I want to play my best and be happy with my performance. Brian is a great player, and I am looking forward to the game". added Julien
2021 All African Senior Championships bronze medallists Uganda, drawn in Group C, also registered a 4-1 win over the Maldives to take the third position in the group. Fourth seed Canada topped the group while Scotland came in second. Leading the charge for the Ugandans is 2022 All African Individual Silver medallist, Brian Kasirye.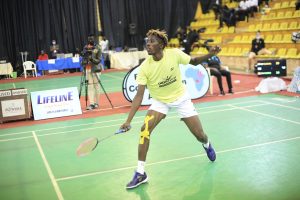 "It was a tremendous journey for us getting here at the commonwealth games. Our Federation assisted us by setting up camp for the players who qualified for the trials. We had two training sessions per day, intensive court drills plus Gym work said, Brian. We thank all our sponsors for the support given to the team, especially our government and association. He added.
Brian will be facing Zambia's Kalombo Mulenga in the round of 32 after he got a bye in the round of 64 in the men's single individual event. Kalombo on his part will have to overcome Shaheed Zaki of Maldives in the round of 64.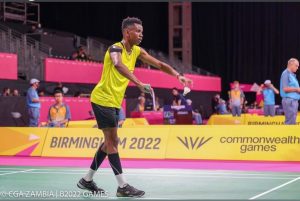 " The individual event is going to be a good experience for me as there are some good top players, and playing with these players will give me more exposure and confidence to help improve my play. I'm just hoping to play my best and go as far as possible in the tournament Said Kalombo.
Pooled in Group D, alongside Malaysia, Jamaica, and Zambia, South Africa achieved history by qualifying for the quarterfinals of the mixed team event.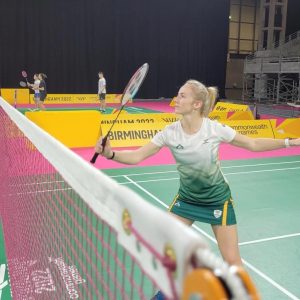 "It has been a great privilege playing on such a big stage and in front of crowds. Going head to head with some of the world's top teams is an amazing experience, and we can only take this home and keep building on it. As a team, we are happy to have made it out of the group stage and into the QF. We fought for every point, and we kept fighting until the end. Each game is a stepping stone for us, and more exposure to different games and the high standards help us to improve in our national and continental circuit. Deidre Jordaan told BCA news about their history-making achievement.
South Africa trounced Jamaica 3-2 in their first encounter in the group against Jamaica. The Mixed doubles pair of Jared Elliot and Deidre Jordaan opened the score for the South Africans, but the Jamaicans evened the score in the Men Singles game between Samuel Ricketts with a 2-0 win over Caden Kakora. Johanita Sholtz gave back the South Africans the lead when she beat Tahlia Richardson 2-0 in the Women's singles, but the lead was short-lived as the Jamaicans clawed back with a 2-0 win in the Men's doubles through the pair of Joel Angus and Samuel Ricketts. It took the gallant efforts of Deidre Jordaan and Johanita Sholtz to bring the tie home by beating Tahlia and Katherine Winter 2-0 in the Women's Doubles.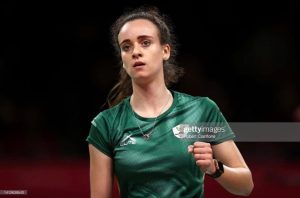 "The commonwealth games has truly been wild, from playing in different halls to meeting idols. Every day has just been wonderful! I had the opportunity to play with great players and the opportunity to work hard for every point. I feel that this is a great start to the next international tournament. 
My target is to try and stay as long as possible on the court to learn from the top players who have this type of experience often. Hopefully, bring all information home and keep on practicing, Said Johanita
South Africa finished second in the group behind Malaysia to qualify for the Quarters after beating their arch rivals Zambia 4-1. Talking to BCA news, Stewart Carson, the South African National Team Coach said,
"To play the team event at the CWG, you have to top 16 in the CC so it's a good achievement to qualify especially since we started from scratch building a new team a few years back. I said it would take South Africa 5 years to get back to the top of Africa, so we are on track [Covid slowed us down a bit]. Only Scholtz played CWG 2018, which is good as it shows new faces/talent is coming through, but we need more.
Quarter Final is a brilliant result for us, we had achieved this year's back in the Women Doubles, but as a team it's huge, our NOC is good to us so this shows that it is paying off.
In terms of what we take away from this, we need to work harder and compete more, we are still Miles off from competing with these big countries, and we need to try and close that gap. It will take years, but we have to start now. More tournaments, more training, educate and expose our coaches so they can pass that on to our players.
Looking ahead to 2024, it starts now, and funding needs to be sourced to ensure South Africa is well represented in Paris as I think the Race to Paris is going to be the most competitive Africa has ever had and hopefully the strongest too. 
The individual events start today at the NEC hall 5. Check out the full results on the link below:
https://www.birmingham2022.com/