MEET SENEGAL'S MAMADOU AIDARAN USING DANCE AND SPORT TO TRANSFORM HIS LIFE
DAY 3: Africa Para Badminton Championship 2023 Lugogo Stadium, Kampala, Uganda
Sporting catchy black and blonde dreadlocks, Mamadou broke into a jig as the World Badminton Day Celebrations were about to commence, and the invited participants cheered him on as he combined death-defying acrobatic and electrifying dance moves. The Senegalese Standing Lower (SL) 3 player has proven to be a darling of the players here in Lugogo.
"I am a very outgoing person, and I like talking to people and sharing my experiences. That's why, I guess, the participants like me. Additionally, I also take time to hear other people's problems and offer solutions because we all more or less experience the same challenges," he told the BCA TV team in an interview.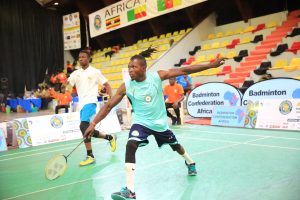 Teaming up with Uganda's Merida Nakaima Birungi in the Mixed Double SL 3 – SU5 in group C, the pair lost to Deada Jean Yves and Gbenon Jaelle of Ivory Coast 6-21, 12-21. In the SU5 Men's Doubles, he put up a spirited fight alongside Togolese Ayao Severin in the first game, narrowly losing to the Cameroon pair of Amougui and Songa 18-21. However, they could not replicate the same performance in the second game, allowing the Cameroonians to take the game 21-9 for a 2-0 win.
"Despite our losses in the matches, I am still upbeat about myself since I have gone through many defeats in life, but I have always managed to see the good in everything. This is my first Championships, and I want to learn as much as I can to go back and teach my fellow club members in Senegal," he said.
Mamadou's disability resulted from a botched Polio injection, and he ran away from home at an early age after being forced to walk long distances to attend coranic school with his disability. He ended up living on the streets of Dakar as Talibe, earning a living from begging. UNICEF estimates that there are between 50,000 to 100,000 begging Talibes in Senegal.
"Life on the streets was hard—no shelter, water, getting arrested by local authorities, going hungry for days, and as a person with a disability, I was scared for my life as you could easily be killed for rituals. However, when all was dark, my light came when I was passing a Cyber Café and saw an African Boy (Junior) dancing. I immediately knew that this is what I wanted to do. I would go to the streets and beg, then use the proceeds to pay the Cyber Café to watch videos of this dancer (Junior) dance. I would then use these dance and acrobatic moves to perform in the streets, and that's when I was discovered by Senegal Cirque, who helped me join a gymnastic club and get a foster home.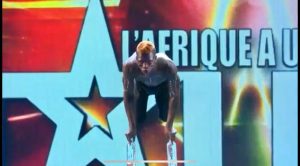 With time, Mamadou trained in his gymnastic club, developing his talent and performing in local shows in Senegal. His breakthrough came when Senegal Cirque offered to enter him in the Africa's Got Talent show in Côte d'Ivoire.
"When Senegal Cirque told me that he had entered me in this competition, I told him I was going to win the competition. He asked me if I was sure I would win since there was stiff competition, including talents from all over Africa. I was so determined to win the competition that I spent all my time training, polishing, and adding more moves to my repertoire."
Unfortunately, Mamadou didn't win the competition but reached the finals where he came second to Guinean dancing brothers. His newfound fame opened more doors for him, and he got employed in a school as a PE teacher.
"I continued training at the club and working as a PE teacher. Then one day, the President of the club told me he was going to play Para badminton. I got curious and followed him. That's where I met coach Dethie Diaham, who was trained in the BCA Para Badminton Coaching Workshop in Uganda. I immediately developed an interest in the sport, and I am happy the coach saw my interest and took me under his wing, where they have been training me. Para badminton gives me hope that my struggles have not been in vain. Through BCA's support, I have been given the chance to attend my first international tournament and the Africa Championship to represent my country. Not even in my wildest dreams was this a possibility."
Mamadou was among the players and coaches from different countries supported through BCA's Para Badminton participation grant to be classified and attend the Uganda Para badminton International and the African Para Badminton Championship. The BCA additionally supported accommodation costs for 2 players and one coach from each participating country.
"Aside from the friends from different nationalities that I have made, I have gained a lot of experience in these two weeks I have been in Uganda. I can't wait to go back home and share the knowledge I have gained to introduce Para badminton back home."
Check out the comprehensive results of the day in the link