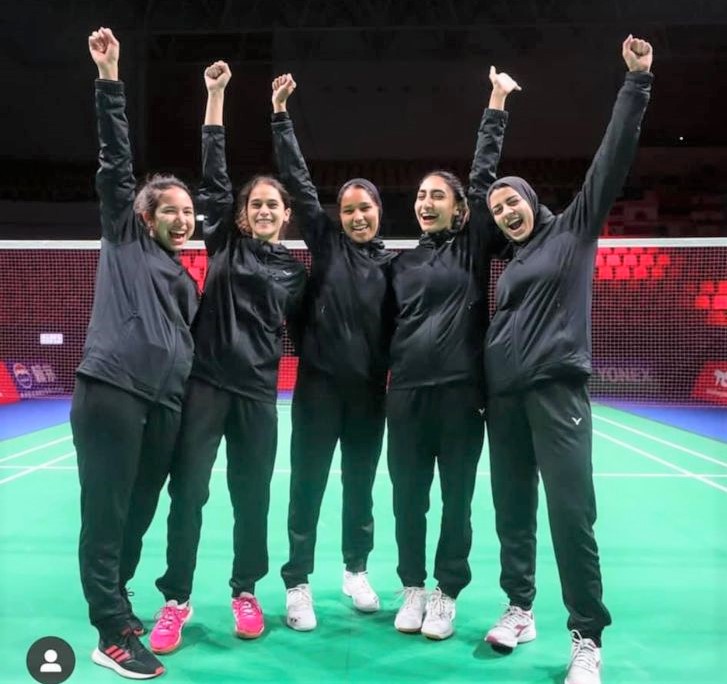 The Tokyo 2020 three events qualifier and African Champion in Women's Doubles and Mixed Doubles, Doha Hany, led the Egyptian women team in its first win at the TotalEnergies BWF Thomas & Uber Cup finals 2020. The Egyptians qualified for the championships after being crowned the African Champions during the All Africa Women's Team Championships in February 2020.
"Qualifying for the Thomas & Uber Cup finals for the first time was a great feeling, but also winning a tie today is a whole different feeling. I am so happy that we won, and for me, it's the first step towards a big dream" said Nour Youssri, the recently crowned U19 African Singles champion. She added: "When we qualified for Uber cup finals, it was a milestone but winning a match in our first participation is a whole new level. I hope this will be the start of a series of achievements and improvements worldwide."
The team comprising of Nour Youssri, Jana Mekkay, Rahma El Adawy, Hana Tarek, and the legendary Abdelrahman Kashkal as coach gorged Tahiti 5-0. In the first Women's Singles match, Doha Hany beat M Gaillard in two straight sets of 21-2, 21-8. Ahmed Youssri overcame C Segrestan in 2 sets to 1 of 21-15, 22-24, and 21-16. Jana Ashraf beat H Curet 21- 19, 21-10 in third Women's singles match.
"I don't think that I will ever feel this way again. For a moment after the match finished, I felt that nothing was important. It's real happiness" Jana said.  "I am honored to participate with such great people in such a big championship" she added.
The indomitable Doha Hany teamed up with Mohamed Saad Eladawy to beat the pair of H Curet and M Mi You 21-5, 21-7. Ahmed Youssri and Tarek Zaher defeated M Gaillard and C Segrestan 23-21,21-13 in the second Women's Doubles match.
"I hope this will be a start of a series of achievements and improvements worldwide. I am so happy and proud of my team. I finally feel that we are on the right track" Hana Tarek.
"I want to thank my family, for pushing me to balance my athletic life with my academic and work-life over the years, my teammates and coach Alaa Youssef, for giving me the best they could and to everyone around me for motivating me even with sharing a post or sending me a message, it means so much to me and makes a huge difference" Rahma El Adawy said.
This year Africa was represented at the Championships by Algeria and Egypt. Both teams qualified by winning the continental championships in 2020. The TotalEnergies Thomas & Uber Cup 2020, composed of the 16 best teams in the world, was originally scheduled for May 2020 but was then postponed due to the pandemic. The finals will be played on Sunday 17 October 2021 in Denmark.