Big day for Benin and Nigeria as they secure spots in the finals of the mixed doubles, while South Africa settles for Bronze.
After successfully hosting the Mixed Team Relay events, it was time for the Individual events to take centre stage at the African Beach Games AirBadminton Championships, a qualifying event for the World Beach Games which will be held at Jimbaran Beach in Bali, Indonesia, from August 6th to 9th, 2023.
Chosen for its unique qualities, including the ability to be played on different surfaces such as hard ground and sand, being environmentally friendly, and an all-inclusive sport that can be played both competitively and recreationally, AirBadminton will feature 72 athletes (36 men and 36 women) from five continents competing in four medal events: Men's Triples, Women's Triples, Mixed Doubles, and the Mixed Team Relay.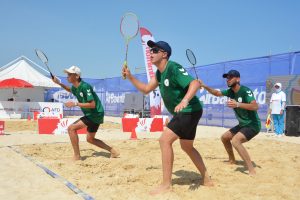 Starting off Day 3 of the Championships was the Mixed Doubles event, where Algeria fielded its first mixed doubles pair of Kiouar Siffedine and Kahinna Amrouni against the second selection mixed doubles pair from South Africa, Reneshan Naidoo and Jabu Ginida. The South Africans, smarting from their defeat in the Mixed Team Relay, took no chances and dispatched Algeria in quick succession with scores of 11-7, 11-8, 11-8 for a 3-0 win.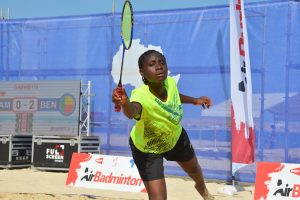 The surprise team of the championships, Benin, who qualified for the games based on the BWF World Team Ranking after Uganda and Egypt withdrew their participation, stunned the Mixed Team Relay champions, Nigeria, with an 11-5, 11-9, 11-4 victory. Buoyed by their talismanic player Anna Gladys Akakpo and the ever-enterprising Oswald Ash Fano-Dosh, the leopards had a firm grip on the game, making easy prey of the Mixed Team Relay champions. However, Nigeria's second Mixed Doubles pair of Habeeb Bello and Damilola Oyedepo were lucky, cruising past the Zambian second Mixed Doubles pair of Timothy Kafunda and Evelyn Siamupangila, sporting their new flashy military vests uniform.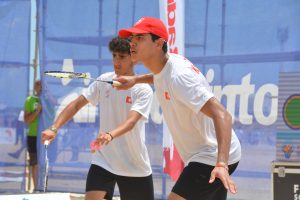 The heartbreak of the day came from Tunisia, who fought gallantly to secure a spot in the medal bracket, but was denied by South Africa with a final score of 3-2. Tunisia's first pair in the Mixed Doubles, Ouzaier Khayati and Malek Ben Ahmed, came from behind to level the score in the second game with a score of 12-10. However, they lost the third game 7-11, only to recover in the fourth game with a score of 11-2. South Africa put an end to Tunisia's gallant efforts in the fifth and deciding game with a score of 11-1, booking a slot in the semi-finals.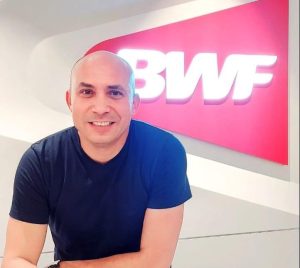 Mr. Raouf the President of the Tunisia Badminton Federation in an interview with BCA Tv said, "I am super proud of my team, especially considering this is their first time in a major championship after a long time. Our plans and the pathway we have established for our players are actually bearing fruit. We have an elite training program in place to ensure Tunisia regains its lost glory in badminton, and these performances by our young team are the first fruits of our efforts. We now have our sights set on sending a team to the 2023 All Africa Under 15 Championships in Senegal in August as part of our junior team development program, and the 2024 All Africa Senior Championships in Egypt as part of elite development program. Finally, we would like to thank our board members, the African Beach Games Local Organizing Committee, and our National Olympic Committee for their immeasurable support in ensuring the successful presentation of the inaugural AirBadminton Championships in Africa at the African Beach Games."
To follow all the action check out the full day's results here: [Link].