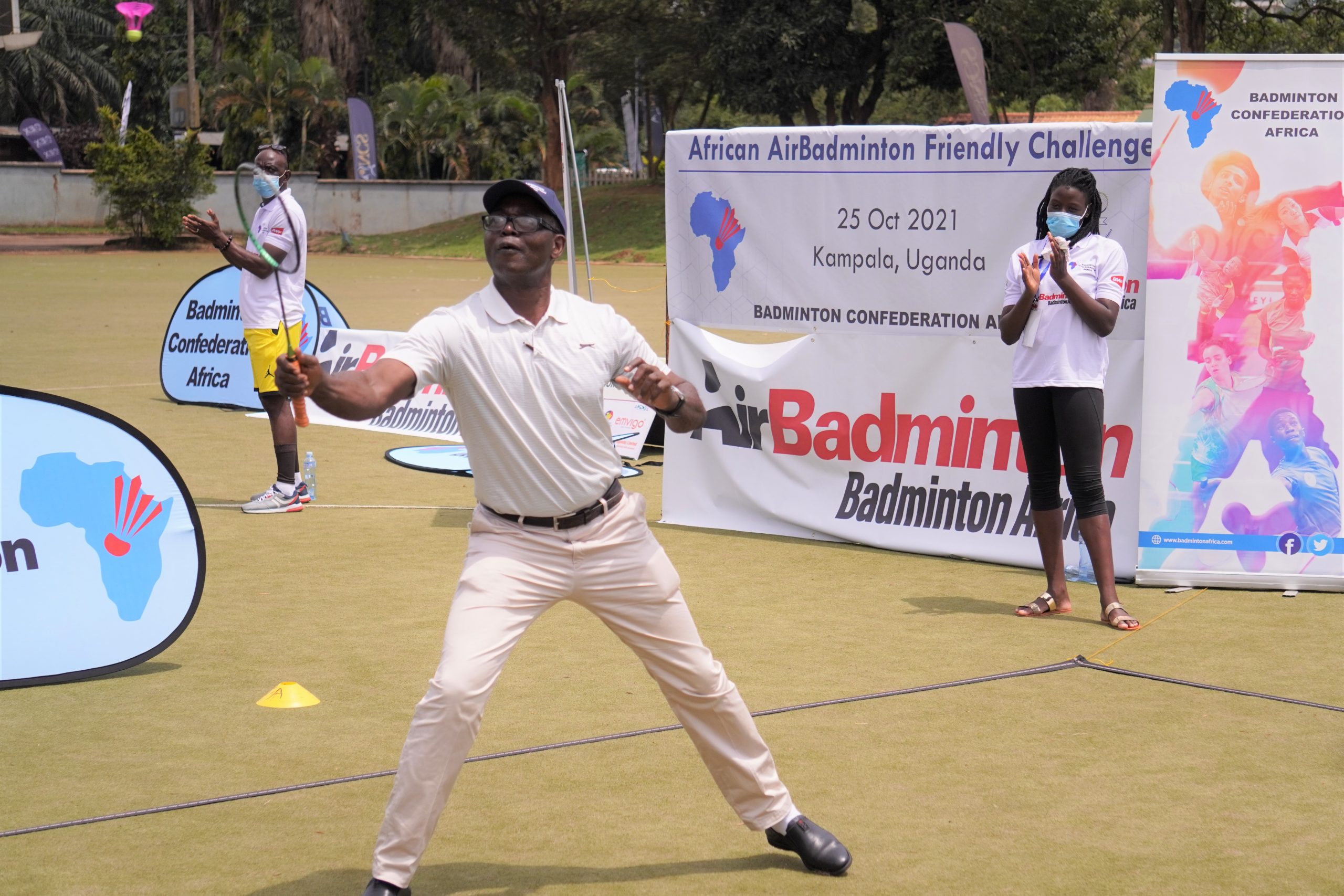 The BCA held a friendly AirBadminton challenge at the MTN arena Lugogo stadium in Uganda. Players competing in the All Africa Mixed Team Championships were invited to mix up and form teams to compete in the friendly challenge. 
Presiding over the event, the President of the BCA said, 
" Airbadminton has potential to succeed in Africa, and the BCA is planning to have competitive Airbadminton tournaments soon. Airbadminton has many advantages, especially since most countries in Africa don't have the infrastructure required to develop badminton. We urge our Member Associations to make use of part of the BWF Membership grant to purchase Airbadminton equipment." 
The players took this opportunity to relax and have fun after a gruelling team championship. They combined to form six teams to play doubles and triples. Rajab Shamsa Mbira from Uganda, team captain of the unstoppable "Vikings" comprising of Tracy Naluwooza- Uganda, Benjamin Botwe- Ghana, Tshepo Perekisi- Botswana, and Tony Tshizanga- DR Congo, qualified for the Semi-finals after beating "Shuttle Benders" consisting of Lubegoi Muzafaro-Uganda, Elizabeth Chipeleme- Zambia, Ahamad Abdul- Ghana, Bakou Berobrin-DR Congo, Modi Badubi- Botswana and team captain Ngandwe Miyambo 50-38.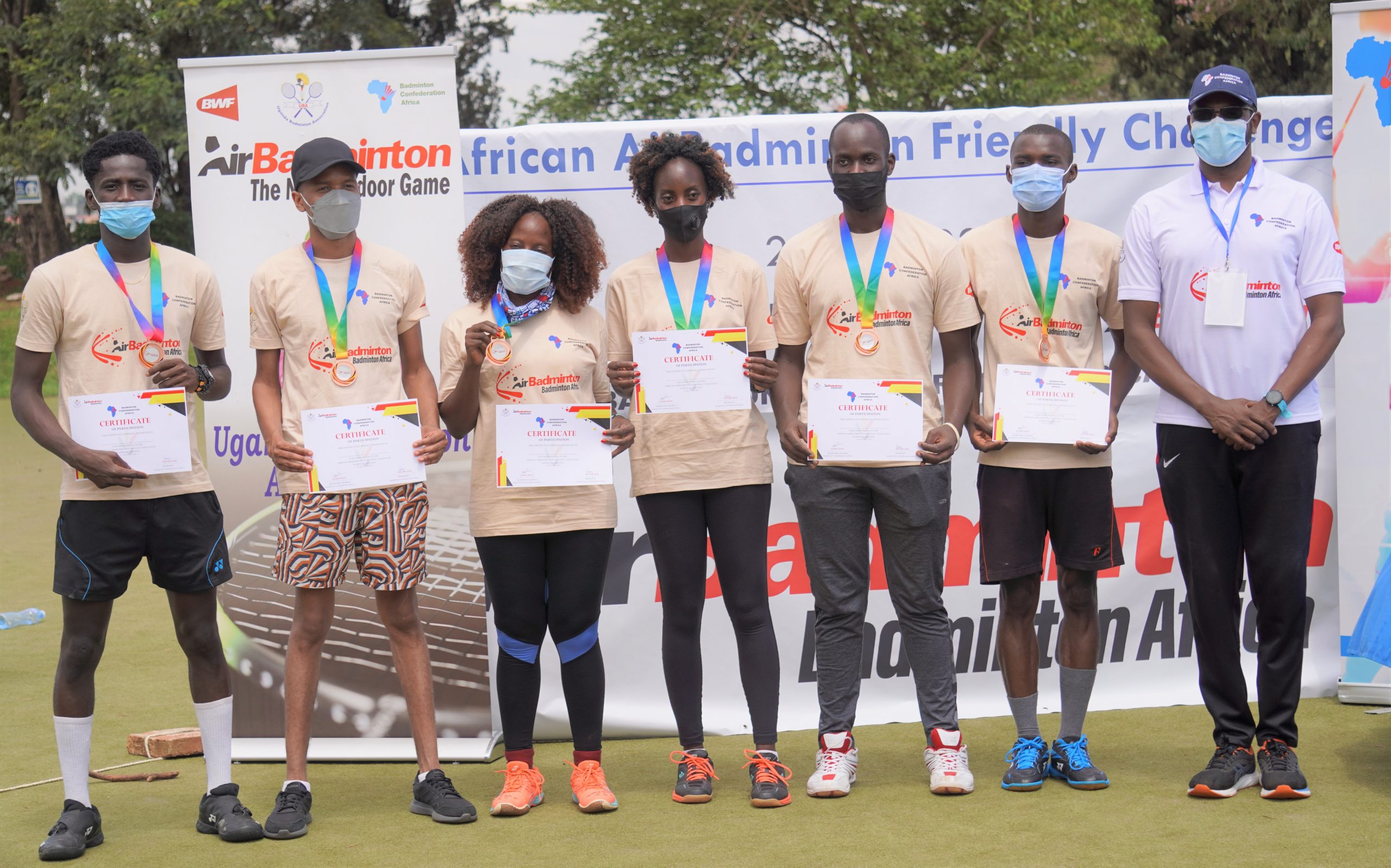 " As expected, team Vikings qualified for the semi-finals, and we are happy we won our match against Shuttle Benders," said Rajab. We had so much fun because this friendly Airbadminton challenge brought different people together as a family which is amazing. I hope this will continue because it's good, fun, and challenging at the same time." She added.
" We lost, but the game was great and a lot of fun. Playing outside was good for the fresh air and it was also less tense. We made new friends from other countries something we rarely do in tournaments. Said Ngandwe Shuttle Benders team captain."
In the second semi-finals, the fancied "Astronauts" led by Uganda's Kobugabe Husina, Racheal Quarco- Ghana, Brian Kasirye-Uganda, and Kelvin Alphours Evans- Ghana, dispatched Team International to qualify for the finals.
" Airbadminton has been a nice experience, although it has a bad side too. The shuttle was a bit heavy for the strings and resulted in lots of our strings breaking. Nevertheless we had fun, and team astronauts bonded well. Husina told BCA TV.
Team Astronauts could not overcome the resolute Vikings going down in the finals to take Silver. International and Benders each got bronze.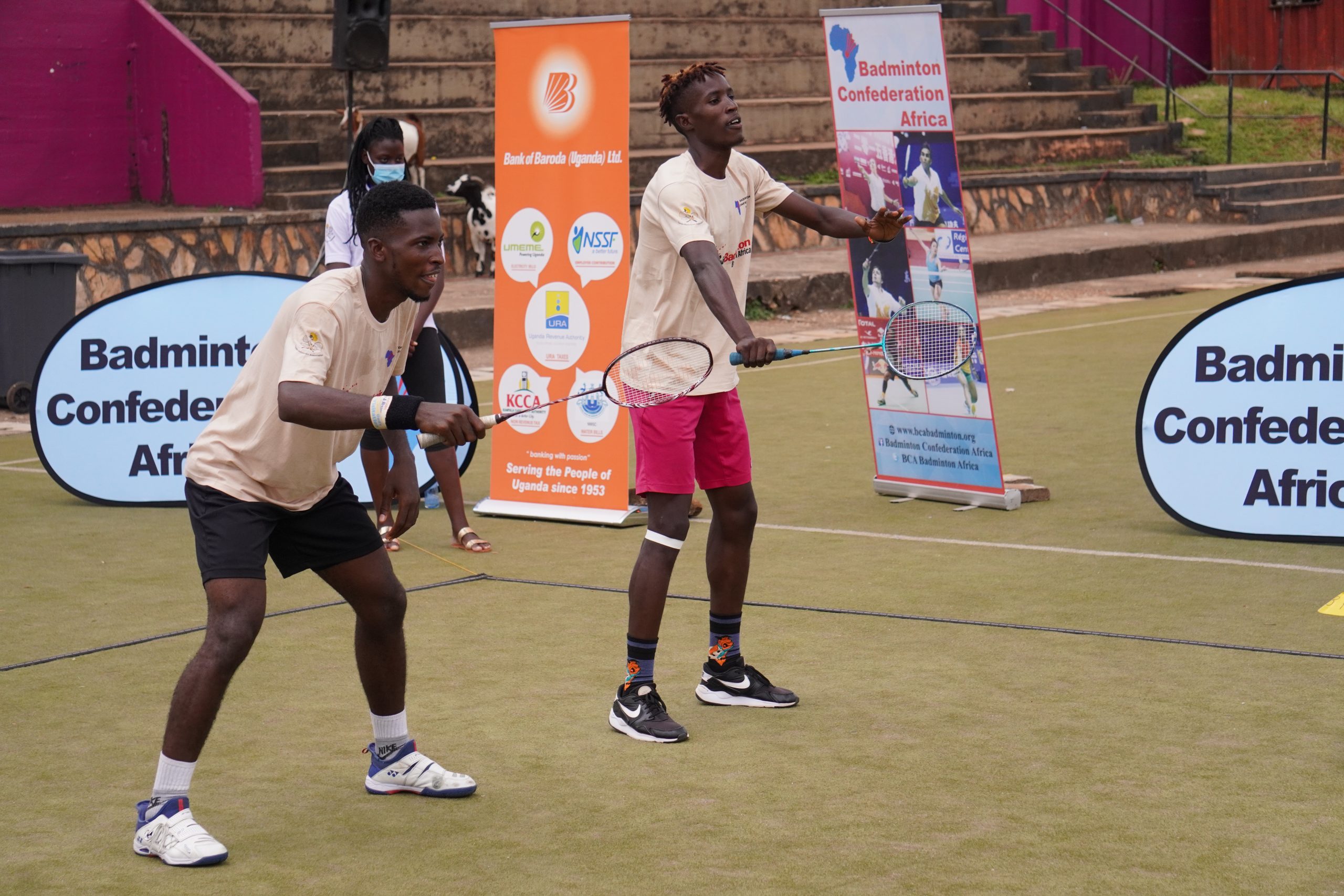 Other teams participating in the event were the Warriors- Captained by Nestar Mananga-Congo, Tebogo Ndzinge- Botswana, Fadillah Shamika- Uganda, and Coach Pascal from Reunion. Team Elite Captained by Mable Namakoye- Uganda, Aaron Tamakloe- Ghana, Israel Wanagalya-Uganda, Sanat Mouanda- Congo, and Cindy Etornam-Ghana.
"Controlling the shuttle is challenging, and the wind sometimes changes the direction of the shuttle so u end up missing it. But it's interesting and fun too."
"It depends on how you control the shuttle; the wind blows the shuttle and it becomes hard to chase it. The sun also becomes a challenge for a better view of the shuttle." Mako Mebz- team captain Elite. 
AirBadminton is an ambitious new development project ,launched by the BWF in 2019, in partnership with HSBC, BWF's Global Development Partner, designed to create opportunities for people of all ages and the ability to play badminton outdoor on hard, grass, and sand surfaces in parks, gardens, streets, playgrounds, and beaches around the world. – BWF.  AirBadminton can also be played in competitive environment with in singles, doubles, tripes and a Team Relay system.