Since the past few years, the BCA has been constantly growing its human resource capacity, with the help of the BWF, to better serve and assist the membership in developing badminton on the continent.  From 2018, where the staff were composed of three members (SG, Development Manager and Finance Officer), to now, where there are 5 members (SG, Development Manager, Finance Officer and 2 Regional Development Officers), we have seen an increase in activities organized, more support given to MAs and an effective and transparent management and administration at operational level.
Following the resignation of the current SG in June 2022 and the subsequent recruitment process for a new SG, which started in September 2022 with the support and approval of the BWF, the BCA decided to also proceed with a restructuration of the office.  This change is in line with BCA's vision to professionalize the organisation and its consequent administrative needs.  The following are the key changes made to the structure:
Instead of a Secretary General, the BCA has proceeded to recruit a Chief Executive Officer (CEO) and a Head of Operations (HOO) from the candidates who applied for the position.
The CEO will be a more executive position with focus on the strategic initiatives, marketing and commercial stratagem, governance servicing, partnerships and head of staff.  On the other hand, the HOO will lead the implementation of activities, operations and seconding the CEO on other tasks.  On the technical side, the HOO will also lead the Events and Development staff.
The CEO will be responsible for all the current Constitutional duties of the Secretary General which includes sending meetings notices, AGM matters, head of staff and others.
The New BCA Organogram: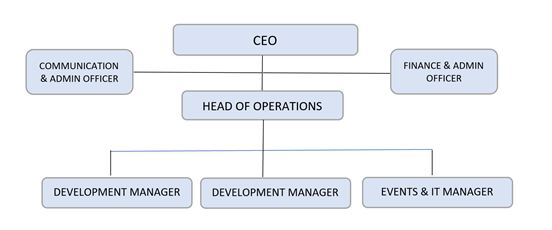 New Staff – As from 1 January 2023
Based on the above, the following staff have been recruited:
CEO : Mr. Jeff Shigoli – Mr. Shigoli is a current Council Member and has been Chair of the Administration & Remuneration Committee since July 2021. He has also occupied several positions in sports in Kenya including the position of Secretary General of Badminton Kenya.  Mr. Shigoli will resign from all his elected position prior to start his employment with the BCA.
HOO : Mrs Rajae Rochdy – Mrs Rochdy Raja is a former national badminton player from Morocco and currently lives in France.  She has been involved in Badminton at various levels for the past 20 years and has a wide range of skills in sports management.  She has been involved with the BCA, as a consultant, on the Road to Paris 2024 programme since 2020.
If you have any questions on the above, don't hesitate to get back to me or the BCA President.