The BWF and the BCA are committed to developing the capacity of their national federations. In this regard, the BCA, under the auspices of its Gender Equity Commission, conducted the BWF National Administration Course in Pretoria, South Africa. The course was scheduled for December last year but postponed due to the Corona pandemic. Twenty participants from fourteen countries took part in the course.
Among them was Zimbabwe's Tariro Melisa, who spoke to BCA TV on her journey in badminton thus far.
Meet Zimbabwe's Tariro Melisa, scaling the National Administration ladder
First encounter with Badminton.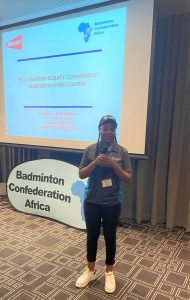 "When I was thirteen, it was mandatory to join a sport in my school. I tried out different sporting activities, and badminton caught my attention.From that moment, I fell in love with badminton, and immediately knew I wanted to be a part of it. So, I dedicated my time through high school and university by investing my resources and time to train myself. I would attend practice consistently and show up at every game even though I wasn't selected to play."
Life-changing moment.
"I wanted to make it to the National Team, I mean isn't that the goal? Well, so I thought; until the revelation that I wasn't a good player. I accepted the reality that despite bringing my heart and soul into the game, I wasn't good enough to even qualify to be on the school team, let alone make it to the National Team. At first, I was demoralized, but my love for the sport kept me around as a fan, until l realized l was a good speaker. I began to volunteer to make announcements and facilitate events for the federation, and that's how l became part of the Events Management Committee and landed my position as the Chair of the Women's Commission. As the Chair of the Women's Commission, I was privileged to meet the Ambassador of India to Zimbabwe, Mr. Vijay Khandija. He commended me for my commitment and advised me not to give up but instead to channel my energy where my strength is and hope to rise in that area."
Impact of participating in the BWF National Administration Course
"I wish to thank my federation for nominating me to participate in this BWF National Administration Course. It means they recognize the hard work I have put in. The training has allowed me to become an asset, and above all grow relevantly in badminton. The learning process was very interactive. Participants were able to share their different views and experiences, which helped us constructively come up with solutions to our different problems. We also learned to think ahead to mitigate future problems."
What's next for you?
The first step when I go back home is to become the change I want to see. I want to become a better administrator and give a return on the investment that BCA has put on me through the course. Furthermore, I want to introduce good governance and financial literacy not only to the players but to everyone who is in the Badminton Association of Zimbabwe. I would also like to encourage everyone involved in badminton to partake in all the free online courses as the BWF goal is to give everyone an equal opportunity and to develop a culture that encourages knowledge transmission such that everyone has a head start when they want to progress."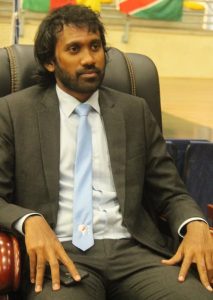 Speaking at the Launch of the course, the Secretary-General of the BCA, Mr. Sahir Edoo, reiterated the commitment of the BCA to strengthen good governance practices in all its Member Associations. "As per our strategic plan, the education of our national administrators is a key pillar to our success", he affirmed. 
With few opportunities in most of our federations in Africa, it takes personal drive and determination to scale the heights of this sport. Many may have the determination and drive but do not reach their goal. Realizing her talent was in administration and not in playing made the difference for Tariro Melisa. Without making it to the national team, she still found space for herself in the sport, thus sport administration, and meeting the right people along her way has made the difference for her. The step by the BCA to build capacity and support talent is a step in the right direction. It is encouraging to see the federation giving equal opportunity to men and women, as we know women face many barriers towards development in sport. Building capacity will strengthen the sport in Africa and support stronger confederations. This trajectory will enhance sportsmanship and professionalism in Badminton in member federations. BCA remains committed to its goal as stated above by the Secretary General.