MARY NADINE, THE NEW AMBASSADOR HERALDING PARA BADMINTON IN THE MAROUA AREA OF CAMEROON.
Despite traveling over 1000 km to attend the recently concluded BWF Level 1 coaching course in Yaoundé, Cameroon, Mary Nadine has yet again joined a group of BWF qualified coaches, sponsored by the BCA, to participate in this edition of the three-day Para badminton coaching workshop held in Uganda. Among the 12 participants of the workshop, BCA supported 8 coaches from 8 Member Associations with Air tickets to Uganda and/or accommodation for the entire period of the workshop. The workshop is conducted by the two BCA Regional Development Officers, Dr. Ahmed Reda and Mr. Bernadin Bokpe, straight from the BWF Programme Leads Workshop aimed at building their capacity in delivering key BWF and BCA projects.
We caught up with Mary, a mother of two, on the assessment day of the workshop in her quest to also become a level one Para badminton coach.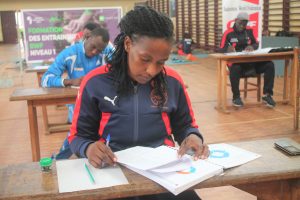 "I am very passionate about developing Para badminton in my area and Cameroon." She tells BCA Tv.  "I am grateful to the BCA and my federation through our President, Madam Odette, who heard what I was doing for badminton in our country and gave me this opportunity. 
I used to play volleyball, but in 2019 I learned badminton through the Shuttle Time Teacher training programme. It was love at first sight. The programme made it easy for us to teach our students badminton. This year due to my efforts in Shuttle Time, my federation allowed me to attend the BWF Level 1 coaching course in Yaoundé, and I could not believe my luck. It was a dream come true. I hurriedly embarked on the two-day journey to Yaoundé for the course, which I successfully completed."
Working as a PE teacher for the government in the Ministry of Sports, Mary has taken it upon herself to introduce Para badminton in Maroua, a town located in the far northern part of Cameroon.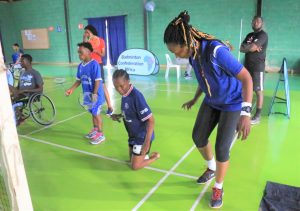 "The situation in Maroua is hard. We don't have facilities, we play outside, and it's hard to find players since Para badminton is a new game, and without proper skills to coach the various classes, it's hard, and it takes longer to explain something to the athletes. I am happy to acquire new skills to train my athletes. The instructors have also taught us how to train athletes with special disabilities including hearing disabilities. This new knowledge will widen the scope of athletes we will be targeting.
Looking forward to passing these skills to my fellow coaches back home to improve the standards of Para badminton in Cameroon, and hopefully, our players will be participating in the next championships."
The BCA is hosting the coaching workshop alongside a player training camp in line with its strategy to develop and increase the number of Para badminton players in Africa. Twelve players from different Member Associations have been supported to attend the training camp and to participate in Uganda Para badminton and the African Para Badminton Championships 2022. The players will also have a chance to be assessed by a panel of BWF Classifiers and allocated a sports class during the classifiers workshop, which will be held before the tournaments.  One such player is Ugandan Kabuwo Jennifer hoping to be classified in WH1.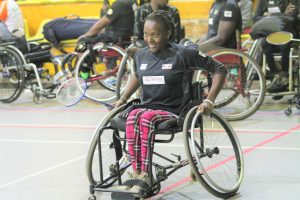 "I am a 26-year-old orphan. I graduated from university with a degree in marketing, but the only job I could secure was a sales job in the construction industry. It was a tough job due to my condition. My fortunes turned when I was introduced to Para badminton. Though not a paying job, my federation through our CEO Mr. Simon Mugabi has ensured we get to practice and sometimes get something small to cater to our needs. 
I have learnt new skills from the coaches and made friends from other countries. The coaches have been very patient with us, which has helped us to understand. I am now confident I will perform better in the tournament.
My role model is my country mate Rita Asiimwe, and I hope to soon qualify for the Paralympics as she did."
The Uganda Para Badminton International 2022 tournament will officially kick off on the 13th of September, and soon after, Uganda will stage the 2022 African Para Badminton Championships from the 19th to the 24th of September. BCA will bring you all the live action from Lugogo Stadium.