Coordinator, Badminton South Africa
I was born in 1959 and raised in Cape Town, South Africa. I was raised in a modest but loving home, the third child in a family of four, with three sisters. It was school that my love for badminton developed and grew into what I have today with the support and guidance of my father.
First Impressions
I first saw badminton when I was about five. I went across the road to the church hall on a Friday afternoon to watch my eldest sister play. My father, who also used to play, encouraged me at this young age to play. A "hand me down" wooden Slazenger from a friend of my sister was my first racket. It was common to play with old RSL shuttles which we fixed with glue.
Badminton struck me as a sport that anyone could play: old or young, no matter what level of competency.
Relationship with Badminton
I started playing schools league in high school and went on to represent my provincial side as a junior; during my high school I started playing league. My late father supported me at my matches until I was transferred to Johannesburg in 1991. Some 47 years since leaving school, I still try to play league games in Cape Town. When I returned to Cape Town after being away for 13 years I was asked to assist with the coaching of the juniors. Some 20 years later, I am still actively involved with the junior structure in my home province. During this time, I have gone on many tours with our provincial junior sides around South Africa as manager/coach. My son grew to love the sport after I introduced him to it and he went on to represent South Africa at both junior and senior level.
Memorable Events
We've worked in poor impoverished areas giving children the opportunity to do something different than hanging around on the streets. We have a schools league, albeit not very big.
There are many community centres around the city for children of working parents. In partnership with the city, we introduced Shuttle Time to the carers at these centres. We have a programme in place where the new carers are taken though the programme to continue our sport in these communities.
I was privileged to be part of the rollout of Shuttle Time in South Africa when Jo-Anne Hughes came to introduce the programme to us. Since then I have travelled the length and breadth of South Africa hosting Shuttle Time workshops upskilling teachers and coaches.
During this time I was also asked to facilitate a Shuttle Time workshop in Zimbabwe. The school hall had a single court but with the techniques learnt through Shuttle Time, I was able to host the event over the three days in a safe environment.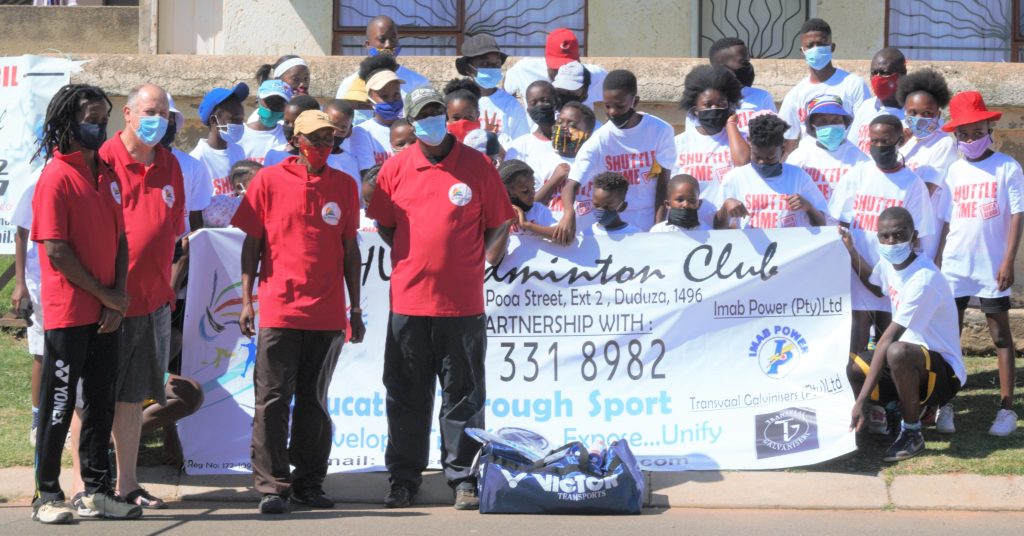 What Badminton Means
Badminton has been good to me over the years as I made many friends along the way. Play was very competitive but in good spirit. Now it is a time for me to give back so that others may grow in our sport and that badminton, in general, will be in a better position now than when I first started out as a player many years ago.
Badminton is a sport where both women and men participate on an equal footing which doesn't always apply to other sports and often participate in the same team event. It is a sport where both young and old can be on the court together regardless of age. We have folk who are 80 years of age who still play in our league.
Impact of Shuttle Time
It is used as a tool to offer youngsters time away from their ghettos to come play, participate and have fun in a safe environment. It offers youngsters the chance to travel and see parts of South Africa outside of Cape Town they would not have otherwise.
It has given the youngsters time to grow and love our game, go on to represent their respective provincial or national side.
I did a Shuttle Time tournament last year in Worcester (about 100km from Cape Town) for the hearing impaired. The joy on the faces of the children was something to behold. Their faces lit up the afternoon I went to spend time coaching them; that is something I will always hold dear to me.
There were about 50 children in the tournament. A single court hall, rafters and about 200 people in the hall enjoying themselves and not letting their disability hold them back. It's true that ours is a sport for all, overcoming man-made barriers.