Badminton Association of Burkina Faso
Growing Up Years
I grew up in a village called Ilou, in the commune of Guibaré, as a shy child passionate about sport, mainly football. In primary school, I was selected for school games. After my primary school certificate (CEP), I discovered other sports in high school such as athletics and floor gymnastics, but the sport that attracted me the most was football. However, as my physical condition wasn't good enough, I was used as a substitute during various school competitions. This led me to gymnastics where I quickly learned body control. During holidays, I spent all my time in rural activities and sports was relegated to the background. I later discovered other sports in university such as volleyball, basketball, handball and taekwondo.
I first saw badminton in 2013 during my professional training in Ouagadougou. I never thought I would be able to play badminton! I missed the shuttle a lot when I started. Later I realised I had to improve my hand-eye coordination. Since then I've had a very good relationship with badminton and it is my favourite sport.
Memorable Moments
My trainee won the first gold medal in girls singles (U15) at the 2018 FASO Open, a first time for the central-north region in badminton. Also memorable were the Shuttle Time launch of 2021 and the National School Championship of 2022 which took place in Kaya which contributed to the popularisation of badminton in the centre-north.
What Badminton Means
Badminton means a lot to me because it is a sport through which a young athlete can encounter life-changing opportunities. Badminton adapts to the space given to it. This makes it a sport that can be practiced anytime and anywhere.
Developing Badminton in the Community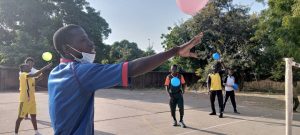 I take heart from the confidence that young people have in me as a coach, accepting a new sport that has brought something new to their lives. Shuttle Time has allowed schoolchildren to discover badminton and it is an opportunity for them to try a new sport accessible to all. Children and their parents appreciate it because it allows them harmonious development on the physical, intellectual, social and moral levels. Working with Shuttle Time, I learned how to train, how to be and how to train someone else. Hence the notions: knowing how to do, knowing how to be and knowing how to do.