DAY: 3 AASC INDIVIDUAL CHAMPIONSHIPS FINALS
The Under 19 All-African Gold Medallist, Nour Ahmed Youssri, announced her arrival on Africa's premier stage in style making history as the only player to clinch both the Junior and Senior titles, in a space of 4 months. Taking a stab at the title for the second time, Nour was more focused and determined to upset her teammate Doha Hany in an all Egyptian final held at Lugogo Stadium.
"I was so disappointed last year when I was knocked out in the round of 32 by Fadilah Shamika. I am happy to make amends on my loss to my arch-rival Fadilah Shamika and to add a cherry on top, I am now the Women's Singles African Champion."
"Facing Doha in the finals was nerve-racking. She is my teammate and my Senior. Her experience and titles are unrivalled by any African player, so I feel special and honoured to dethrone her. I thank my parents for the support they have given me. My focus now is to train hard and maintain my status.
2019 All-African Champion, and Tokyo 2020 Olympian, Anuoluwapo Juwon Opeyori from Nigeria, reclaimed his top spot as the Men's Singles African Champion in a Final against a resurgence Brian 'Masanyaraze' Kasirye coming back from a 3-game gruesome battle.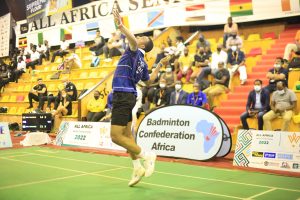 "I planned to approach my matches one game at a time, and it worked. It was not easy playing against Robert Summers in the quarters since I was not used to the shuttle and the hall. In the Semis against Adel Hamek, I got more confident beating him 2-0." Said Anuoluwapo in an interview with BCA Tv.
"Brian is a different kind of player, fast with a good attack. We are good friends off court, and it was a pleasure meeting him at the finals. He has improved a lot."
Brian stunned the champion Adham Hatem Elgamal 2-1 to qualify for the finals. Nicknamed "Masanyaraze," Luganda, meaning he dances as if electrocuted, he won the first game, 21-17, denying Adham any chance to find his rhythm. The second game swung in favour of the defending champion as Brian was distracted by court shenanigans, and a nagging knee injury, allowing Adham to crawl back into the game with a 21-16 final score. Buoyed by the home support consisting of only his teammates due to the Covid 19 protocols in place. Brian started the third game more focused with a winning edge, to enable him to exert revenge on Adham after his loss to him in the team event group stages. He won the third game 21-15.
"I am happy to win the silver medal although my eyes were set for Gold. I came with a knee injury in my game with Adham, which was made worse. I tried to avoid long rallies with Anu to just finish the game." Said Brian.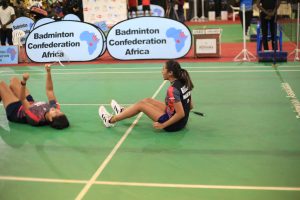 The Women's Doubles match between the Mauritian pair of Lorna Bodha and Kobita Dookhee facing it off with the South Africans Amy Ackerman and Deidre Laurens Jordaan produced drama and excitement in the dying moments of the third game. Level after two games, Dookhee was serving the match point in the third game, she thought she had converted the point with her smash right between Ackerman and Lauren, going down in happiness celebrating only for Ackerman to block the smash with a high lift. It took an acrobatic move from the heroic Dookhee to jump back up and smash the shuttle, this time making sure the shuttle was down before celebrating. They won 2-1 to give Mauritius their only Gold for the tournament.
It took 3 games of 21-23 21-19 21-18 for Koceila Mammeri and Youcef Sabri Medel to take Gold against Adham Hatem Elgamal and Ahmed Salah. Starting rather sluggishly to the disappointment of their teammates, Koceila stepped up in the second and third game to defend their title. Koceila had earlier got Gold in the Mixed doubles match with her Sister Tanina Mammeri ensuring Algeria emerged the Overall winner of the tournament.