UGANDA JUNIOR INTERNATIONAL 2022 – DAY 3: TALENTED UGANDAN 16-YEAR-OLD AKBAR ODUKA LOSES TO THE MAURITIAN KHEMTISH RAI NUNDAH IN THE MEN'S SINGLES U-19 AS ANUPAMA UPADHYAYA FROM INDIA TAKES GOLD IN THE U-19 WOMEN'S SINGLES.
The finals of Uganda Junior International brought us to a close of three weeks of spectacular International badminton hosted by the Uganda Badminton Association (UBA).
"We have done it," Said an excited UBA CEO, and BCA Events Chair, Mr. Simon Mugabe at the closing medal ceremony of the Uganda Junior International.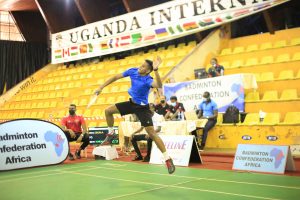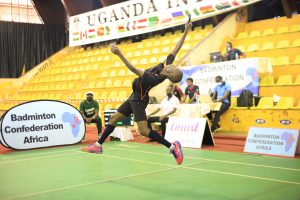 Touted as the surprise package of the Men's Singles Under 19 event, Akbar Oduka failed to play as expected, losing to Khemtish Rai Nundah 21-15 21-12. Oduka had previously fought his way from the qualifiers and eliminated the fancied third seed Ugandan, Shaurya Gupta in the first round of the main draw. In the second round, Oduka saw off Mauritian Abdul Zeeshan Beebeejaun to set up a quarterfinals clash with another Mauritian Jason Francois beating him in 2 games of 21-16 21-17. The semi-finals against fellow countryman fifth seed Samuel Wasswa was a tough nut to crack for Oduka. He had to marshal all his energies and talent to come from behind and beat Samuel 21-15 21-12 for a berth in the finals against Khemtish.
"I am so proud of my performance in this tournament" Said Oduka. "Qualifying for the finals from the qualifiers is no mean fete. I am happy I lost to a better player. Khemtish was quicker and made fewer mistakes, he deserves the win" Oduka added.
Khemtish Rai Nundah, son to Sharma Nundah the Mauritius Badminton President, qualified and won Gold, both in the Men's Singles and Doubles finals.
"This is the moment I have practicing for all my life and I am happy my Dad is here to witness my success" Said Khemtish. "I wish to thank my parents and coaches for the support they have given me. My focus now is to train hard to achieve the same success at the African Youth Games in Egypt." He added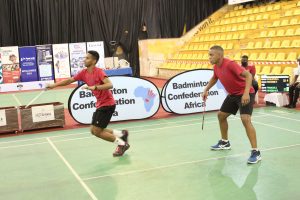 Khemtish partnered with Jason Francois in the Men's Doubles Under-19 event to beat the Ugandan pair of Guna Kusal Dhulupudi and Paul Makande 21-18 21-13. Guna and Makande made it to the finals after eliminating Siow Yin Young and Mohammad Rayan from Mauritius in a 3 game semi-finals thriller of 13-21 21-13 21-18.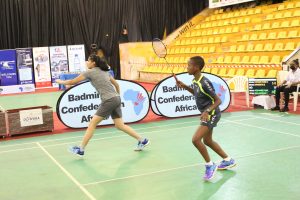 The fortuitous Women's Doubles pair of Diya Chetan and Brenda Namanya from Uganda bravely gave a good account of themselves in their 0-2 defeat of the Women's Doubles U-19 finals Match against the tournament favorites Fadilah Shamika Mohamed Rafi, and Tracy Naluwooza.
Speaking to BCA TV Brenda and Diya were emotional with mixed feelings. "I am sad we should have played better but at the same time happy that we reached the finals of such a big tournament," said Diya. I thank all my teammates, and coaches and hope next time we will come back stronger" added Brenda.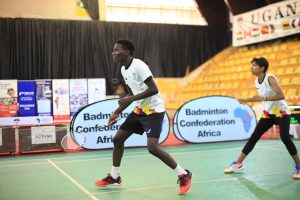 Fadilah and Tracy also qualified for the Mixed Doubles U-19 finals pairing with Paul Makande and Abed Bukenya respectively in another all Ugandan encounter. Seeded first in the event, Fadilah and Makande narrowly qualified for the finals in a 21-17 21-18 hotly contested semi-finals against Khemtish and Layna Luxmi from Mauritius.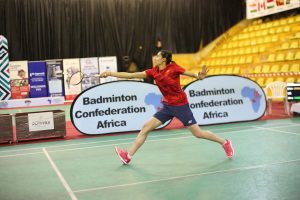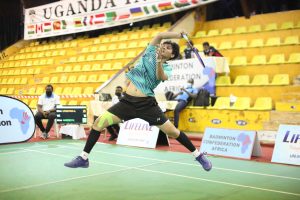 The Women's Singles U-19 finals between Anupama Upadhyaya and Meghana Reddy Mareddy, both from India, finished with a three-game thriller of 21-10 12-21 21-17 lived up to its expectations. Anupama cruised past Mareddy in the first game but in the second game, Mareddy turned the tables on Anupama to level the score for a tight third game. Anupama technically superior on paper to Mareddy was able to take the third game to clinch Gold while Mareddy settled for Silver. Fadilah and Tracy were the Bronze Medallists.