DAY 4: AS FRENCH MAN ARNAUD MERKLE AND TALIA NG FROM CANADA TAKE GOLD IN THE MEN'S AND WOMEN'S SINGLES.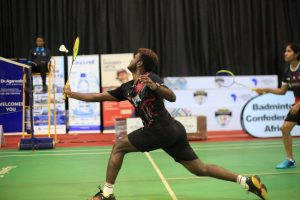 The Uganda International Challenge 2022 dramatically ended with a magnificent Mixed Doubles match pitting the combination of Senthil Vel Govindarasu from India and Venosha Radhakrishnan from Malaysia against the All Africa Mixed Doubles champions, Koceila Mammeri and Tanina Violette Mammeri.
Straight from the start of the game, Senthil and Venosha capitalized on the inexperience of the Algerians in competing at high levels. Tanina Mammeri's nervousness also didn't do her brother any favours.
"I have no idea what happened out there. I was so stressed. It was hard to serve to Senthil. He is fast, and he was able to attack all my serves which put me under immense pressure, and I could not Play", Said Tanina.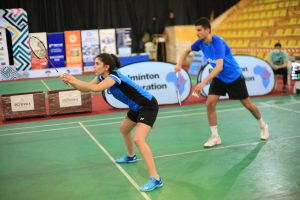 "I had to change my tactics in the second and third game, creating more chances with more net play locking Senthil out of the game as Venosha was pinned at the net", Said Koceila. "Tanina was also more composed in the latter stages of the second game, which enabled me to play better." He added
The success of the Algerians in the match depended on Tanina's performance, and both Senthil and Venosha knew it. They put more pressure forcing her to make more errors. Fortunately, she rose to the occasion earning some spectacular points of her own.
As lady luck would have it, the Algerians won the match, 19-21 21-18 22-20
"It is an important win for us, and Africa as a whole." Koceila added. "I wish to thank our parents for the support they have given us and for being our number one fans, the BCA, for creating opportunities and a platform for African players to showcase their talent to the world, the organizers of the tournament UBA, and our federation. We hope we will get more exposure and opportunities like this in the future."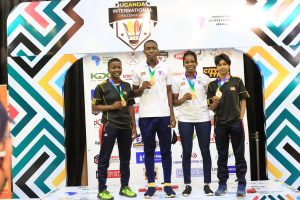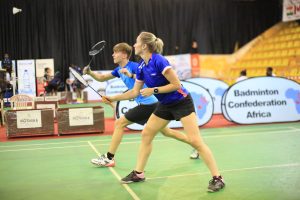 African players also won Bronze medals in the Mixed Doubles through the South African pair of Robert White and Deidre Laurens Jordaan and Uganda's Israel Wanagalya and Gladys Mbabazi.
The Men's Singles finals produced another spectacular match. French man Arnaud Merkle competing in his first tournament in Africa, faced off with Harshit Aggarwal from India. It took three games of 21-15 18-21 21-16 for the top seed, Arnaud, to overcome Harshit.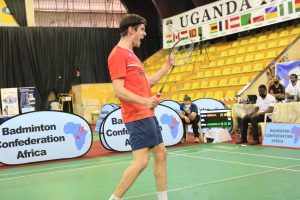 Speaking to BCA Tv, Arnaud said, "It has been a tough tournament for me. It took me some time to acclimatize to the conditions of the hall and country.
I was firmly in control in the first game but lost concentration in the second game giving Harshit the win. I am happy I stepped up in the third game to win it. I am going back home to enjoy my success. I will definitely come back next year. Kudos to the organizers."
The Women's Singles also featured another first-timer in Africa, sixth seed Talia NG from Canada, and 16-year-old Mansi Singh, from India. The humble Mansi Singh fought her way to the finals all the way from the qualifiers eliminating Prerana Neeluri from India in the Quarter-Finals to set up a Semi-Finals berth with fourth seed Swiss Jenjira Stadelmann, whom she beat 21-17 21-17 to qualify for the Finals.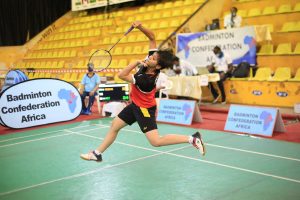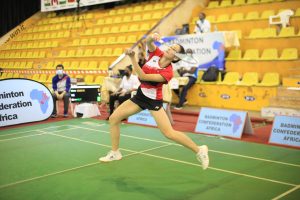 "Talia is a good player, and it was an honor playing against her in the finals." Mansi said. "I am happy with my performance, especially since I am just back from a two-year break."
"I was withdrawing from the tournament because I felt like I had not prepared well due to an injury. I am happy I didn't make that decision because now I have my first International Challenge title. Africa has taught me a lot, especially on issues I took for granted. I will forever cherish these memories. See you next year." Talia said, beaming with a smile in front of her mother, who had accompanied her.
Winning all their matches of the tournament without dropping a game, the Malaysian Men's Doubles duo of Boon Xin Yuan and Wong Tien Ci, repeated the same fete against the German pair of Jones Ralfy Jansen and Jan Colin Völker, in a 21-15 21-14 match, to win the coveted Men's Doubles Gold Medal.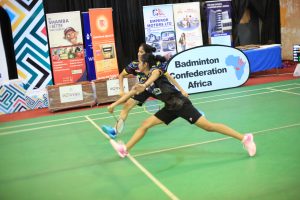 Third seeds Kasturi Radhakrishnan and Venosha Radhakrishnan from Malaysia didn't have it easy as their Men's Doubles compatriots in the Women's Doubles Finals match against second seeds Martina Corsini and Judith Mair from Italy. The Malaysian sisters displayed their nerves of steel to take Gold in the hotly contested match.
Fadilah Shamika Mohamed Rafi and Tracy Naluwooza from Uganda crowned Africa's performance at the International Challenge with a Bronze Medal in the Women's Doubles.
Check out the full results of the finals in the link provided below.
Matches – Uganda International 2022 | BWF (tournamentsoftware.com)