THREE CANDIDATES FOR THE ATHLETES' COMMISSION ELECTIONS ON THE 16TH OF FEBRUARY 2023 IN SOUTH AFRICA.
Further to the notice of the Athletes Commission elections issued on 21st of December 2022, (Linked here) we received three male candidates at the close of the nomination period on the 18th of January 2023.
The BCA Athletes Commission guidelines Clause 4.5 (Linked here) states that:
"……….the BCA Athletes Commission will be composed of at least one male and one female. The male player with the highest number of votes and the female player with the highest number of votes shall be elected; the final player to be elected will be a male or female, whoever achieves the highest number of votes amongst the remaining candidates. In case there are only three candidates for the elections, they will automatically be elected to the commission. If there are only 2 or 1 candidate(s), they will automatically be elected and the remaining position(s) will be filled by the BCA Council.
As a result of this, the two male players with the highest number of votes in this election shall be elected, and the BCA council shall fill the remaining position with a female player.
Please find the profiles of the candidates for the elections.
DONALD MABO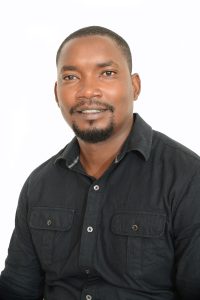 I would like to serve on the BCA athletes commission committee for various reasons. First of all, continuity is important. Due to Covid-19, we were unable to serve on the first athletes commission for two years and I feel there are many programs that need to be completed. I firmly believe constructive contribution towards such agendas, given my expertise as both a player and administrator.
Last but not least, I don't think that the players are in important stakeholder with our international member federations, therefore it's important that they are effectively represented and have a strong voice at BCA's highest level of governance.
BIOGRAPHY:
Donald Mabo is a male Zambian Badminton player. Born on 31st August 1982. Born and raised in the provinces of Samfya, Copperbelt, and Lusaka, he possesses a management studies diploma from Zambia's National Institute of Public Administration (NIPA). He is presently enrolled at the Federation University of Australia to study international sports management.
He has been playing badminton for over 18 years. He has won gold, silver, and bronze medals at international Competitions first being in 2014 Kenya, 2018 Botswana, and Zambia Internationals respectively. He also holds certificates from the International Olympic Committee in Athlete Career Programme, Safe Guarding Sports and BWF Shuttle Time Tutor, BWF Coaching Level 1. He is currently offering technical support to the national badminton teams of Zambia.
Donald Mabo is an accomplished badminton promoter, administrator, and Coach. When he is not on the badminton court, he spends time playing guitar, writing songs, and watching movies. He also tries so hard not to be the worst snooker player at his community club. He is happily married and he is a father of lovely daughters. He lives in Lusaka, Zambia.
TEJRAJ PULTOO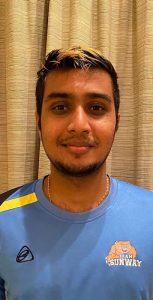 PROFILE:
My name is Tejraj Pultoo, 23 years old, a current member of the Mauritius National squad, and I am currently finishing my bachelor's degree in communication from Sunway University, Malaysia.
The role of the athlete's commission is to ensure that the voice of every athlete is heard from every corner of our Africa, hence, my ambition to be part of this commission.
My agenda is to support athletes in their sporting career and also in their after career. It is also important to represent the athlete's viewpoint in decision-making.
Also having an Athletes' Commission is a clear demonstration of an organization's commitment to good governance, benefiting both the athletes and the organization. My main priority and the reason I want to join is that I want both the players and the organization as well to prosper and we need to show the world that Africa is capable.
ADHAM HATEM ELGAMAL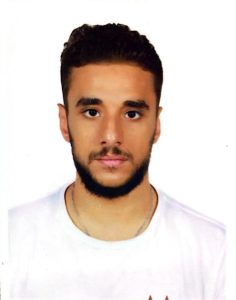 PROFILE:
I am a professional Badminton Player aiming to achieve a colored medal in Paris Olympics 2024 and Los Angeles 2028.
I am on a mission to inspire African youngsters to get out there and achieve more than they ever thought possible through racquet sports.
I am one of the best badminton players and a great ambassador for sports, especially racquet sports in Africa and Egypt.
I am proud of the journey I picked more than 13 years ago.
Africa has given me a lot, and I believe this is my time to give something back. It is the beginning of my dream. I am proud to be African. Being one of the athlete's committee members will help me to support African badminton players. I want to also share my experience and knowledge to help Africa as a continent and the players themselves.
MOST HONORABLE ACHIEVEMENTS 
∙ Olympian (2020 TOKYO OLYMPIC GAMES)
∙ Current African /Arab Rank No. 1 in Men Singles and Mixed Doubles
∙ 2021 African Champion
∙ 2021 Arab Champion
∙ State medal of Honor: Presidential El-SISI medal of honor.
∙ TOTAL BWF World Championships 2022/2021
∙ 3 Disciplines at World Championships for the first time in badminton.
Education 
POSTGRADUATE
∙ Certificate in International Sports Management with the University of London through the BWF (Badminton World Federation) – WAOS (World Academy of Sports) scholarship program 2022/ Ongoing.
BACHELOR'S DEGREE 
∙ Business administration – Cardiff Metropolitan Cairo Campus at The Arab Academy for Science "Technology and Marine Transport "2016-2020
∙ Major: Marketing and International Business GPA: 3.0 "Very Good"
HIGH SCHOOL
∙ "American Diploma – NAIS High School "2013-2016
PROJECT OWNER
∙ Adham Hatem Initiative" Be the Change "
The BCA wishes the candidates all the best in the upcoming Elections!