South Africa had the worst of starts in their quest to defend the Under 19 Junior Championships title they won in Benin. Pooled in the group of death alongside Egypt, Algeria and Zambia, South Africa led their charge with Robert White in the Men's Singles against Algeria's Daoud Aimen in their first match of the tournament. The reigning under 19 champion needed only 20 minutes to dispatch Daoud 21-10 21-13.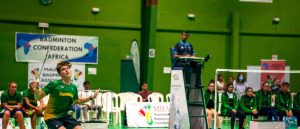 "I felt a bit rusty when the game started" said Robert white, "Since I took some time from playing to concentrate on my education for the last couple of months but after a few points I regained my rhythm and the rest was just a breeze"
Heart break for South Africa came in the Women's singles as Amy Rose Swart took on Nihad Benhoua. After a successful come back to level the score to 1-1 in a 21-19 second game thriller, Amy was in the lead in the third game and looked quite promising of the two to take the game when she suddenly had a nasty fall at the front court forcing her to retire from the match.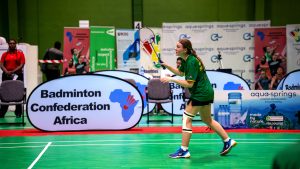 "I don't know what happened, I just had an awkward fall and took out my knee." said Amy writhing from pain when BCA Tv caught up with her after the game. "I am just happy that I am able to walk on my own and hopefully I will be fit for our next game"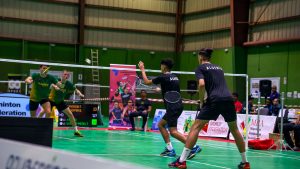 Algeria buoyed by this win confounded South Africa's problems in the Men's Doubles when Daoud Aimen and Tahar Skander Medel – who is the spitting image of his elder brother Sabri, beat Tyron Sandison and Barco and Barco Scheffer 21-15 21-17 to make the score 2-1 in favour of the Algerians.
Even though Michaela Ohlson and Tamsyn Smith levelled the score for the South Africans to 2-2 in their Women's Doubles encounter with Nihad Benhoua and Anaelle Thomassin with a 21-10 21-18-win, South Africa had to forfeit their Mixed Doubles Match due to Amy's injury as she had been nominated to play with Robert White granting Algeria the much needed 3-2 Win.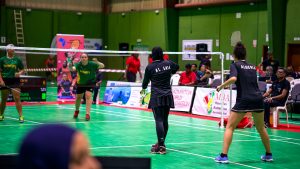 The second day of the tournament wasn't kind either for the South Africans as they lost 2-3 against the fancied Egyptians and eventual Group B Winners. This loss essentially knocked South Africa out of the tournament as Algerians came in second with Zambia being barred from participating for fielding ineligible players.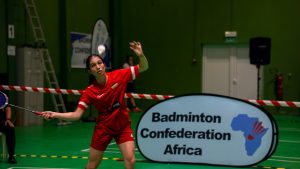 In Group A, hosts Mauritius win over their neighbours Reunion in their Islanders derby could not help them top the group as they were edged out by a resilient Uganda 3-2. The closely fought encounter saw the talented and Mauritius rising star Tiya Bhurtun causing an upset by beating the more experienced Tracy Naluwooza 21-17 18-21 21-19.
The tournament enters its third day with Uganda facing it off with Algeria in the first semi-finals as Mauritius face Egypt in a do or die second semi-final battle.
Check out the link below for comprehensive results of the tournament.
BWF – All Africa Junior Team Championships 2022 – Organization (tournamentsoftware.com)