DAY 4 AASC FINALS
Algeria confirmed its dominance of the Men's Team Event after they successfully defended the title they won in 2020 against Egypt in a 3-0 thriller held at Lugogo Stadium, Uganda.
In the first Men's singles, Youcef Sabri came from a game down to beat Adham Hatem 2-1 in a hotly contested encounter that brought everyone to their feet.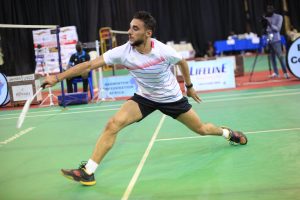 Ahmed Salah had the chance to level the score for the Egyptians when he faced the hard-hitting Mohamed Abderrahime Belarbi. Belarbi took the first game 21-18, but Salah fought back to take the second game 24-22 to set up a tense third game. Belarbi proved to be the strongest of the two mentally in the dying moments of this game to beat Salah 21-18, giving Egypt a 2-0 lead. The win in sight for the Algerians, Adel Hamek put up a spirited fight in the first game of the second Men's Singles match however the Youth Olympics Bronze medallist Mohamed Mostafa Kamel was determined to keep the Egyptians in contention, getting to match point first. Adel had to dig deeper to a 22-20 final score. The second game was more of a one-sided affair as Mostafa had no answers to Adel's questions losing 13-21. Earlier Algeria, the three-time Men's Team champions beat Mauritius 3-0, while Egypt beat South Africa 3-1 to qualify for the finals.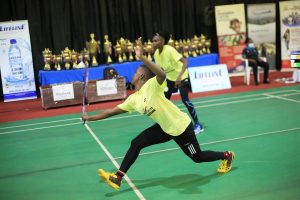 Uganda straight from the high of qualifying for the finals, came determined to represent Africa at the Thomas Cup finals in Bangkok, Thailand, but Egypt, having tasted the fete last year when they defeated Tahiti 5-0 did not want to relinquish their title. Doha confirmed why she is an African Champion by beating the All African bronze medallist Fadilah Shamika for the second time in this championship 2-0 in the group stages and 2-1 in the finals. The second women's singles pitied the under 19 All African champion Nour Ahmed Youssri and Tracy Naluwooza, the latter crumbling to the pressure from the home support looking for an equalizer, but it wasn't to be. Nour won the game 21-14 21-18. Husina Kobugabe gave the Ugandans a lifeline in the third women's singles when she defeated Jana Hesham 2-0 but compatriots Brenda Awori, and Tracy Naluwooza were unable to hold on to their early lead in the first women's doubles, allowing Doha and Jana Hesham to level the score and take the third game, handing Egypt the title.
Tomorrow the individual part of the championships starts at 9.00 Am, with 90 players participating. BCA will stream all the matches live on their YouTube Channel.
Check out the full results of the rest of the matches on the provided link below.
https://bwf.tournamentsoftware.com/sport/matches.aspx?id=83726E2A-D24E-4CFD-B2FC-4E52256A7F22&d=20220217