ELIZABETH MWESIGWA INSPIRES CHILDREN THROUGH PARA BADMINTON.
The second African Para Badminton Championships 2022 kicked off earnestly at the famous Lugogo Stadium in Kampala, Uganda. The annual Championships started in 2018, but due to the Covid 19 Pandemic, it was deferred.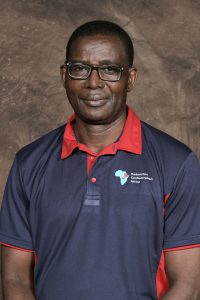 " The Covid-19 pandemic heavily impacted our Para badminton tournament calendar, and we are happy to resume our activities." Said Mr. Michel Bau, the BCA President.
"The BCA is guided by its strong values of diversity and inclusion. We continuously strive to ensure all our Para athletes are given opportunities to participate in tournaments regionally and internationally." added the President.
Towards the qualification of the Para athletes for the Paris 2024 Olympics, BCA has started plans to assist the athletes to qualify for the games.
" We are sponsoring four players for the World Para badminton Championships in November, and also plan to offer scholarships to our Para badminton athletes when the Paris 2024 Olympics qualification period opens." The President added.
29-year-old Elizabeth Mwesigwa from Uganda and the director of Mwesigwa International School for children with determination, is one of the players participating at the African Para-Badminton Championships, who has qualified for the World Para Badminton Championship and hopes to also qualify for the Paris 2024 Olympics.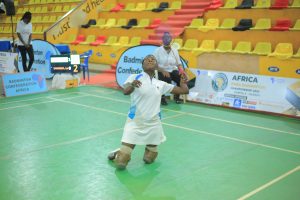 "I am happy at the return of the African Para-Badminton Championships. Africa needs more Para badminton tournaments to enable us to qualify for the Olympics since it's expensive for us to travel out of the continent for tournaments." She says.
"Qualifying for Paris Olympics will mean the world to me and I thank God for enabling me to qualify for the World Para Badminton Championships in Japan."
"My journey in Para badminton started in 2017, after being introduced to the sport by England's Para badminton Coach Richard Morris." 
Elizabeth has been instrumental in popularizing Para badminton in Uganda. For the second year running, her school has participated in the Uganda Para badminton International and the ongoing African Para Badminton Championships.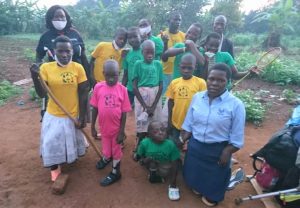 "I was born with my disability. My mother used to carry me to school every day for 2km. On the way to school, I saw many disabled children who didn't go to school, and I asked my mother why? She told me these children didn't have someone to carry them to school. From that day, I vowed to start an organization to support children like me to have a better future. I founded my school in 2015, and now I have 280 children living with disabilities under my care."
"Para badminton gives these children an opportunity to dream big, belong to a social community that does not discriminate against them, and gives them a sense of hope. They look up to me as their role model and would love to achieve what I have achieved in the sport. 
"My proudest moment in Para badminton is when our President, His Excellency Yoweri Museveni, hugged me when we were en route to the World Championships in Basel, Switzerland."
Elizabeth's opening game at the African Para Badminton Championships against fellow Ugandan Merida Nakaima Birungi started on a positive note.
"I am confident I will achieve good results in this tournament. I won a bronze medal in the concluded Uganda Para Badminton International, I am now aiming for Gold."
In other results of the opening day Men's Singles SL3, Emmanuel Pinochet Amougui defeated Ugandan Kizza Edward Kabongei 21-7 21-4. In the Women's Doubles SL3 SU5 sports category, the Burundian pair of Evelyne Manishimwe and Pelagie Niyonzima defeated the combination pair of Zambia's and Uganda's Vienna Hamuchenje and Juliet Mary Namunoga 21-18 21-16.
The tournament runs until the 24th of September 2022. Check out all the results of the day in the link provided below.
African Para Badminton Championships 2022 | BWF Para-Badminton (tournamentsoftware.com)