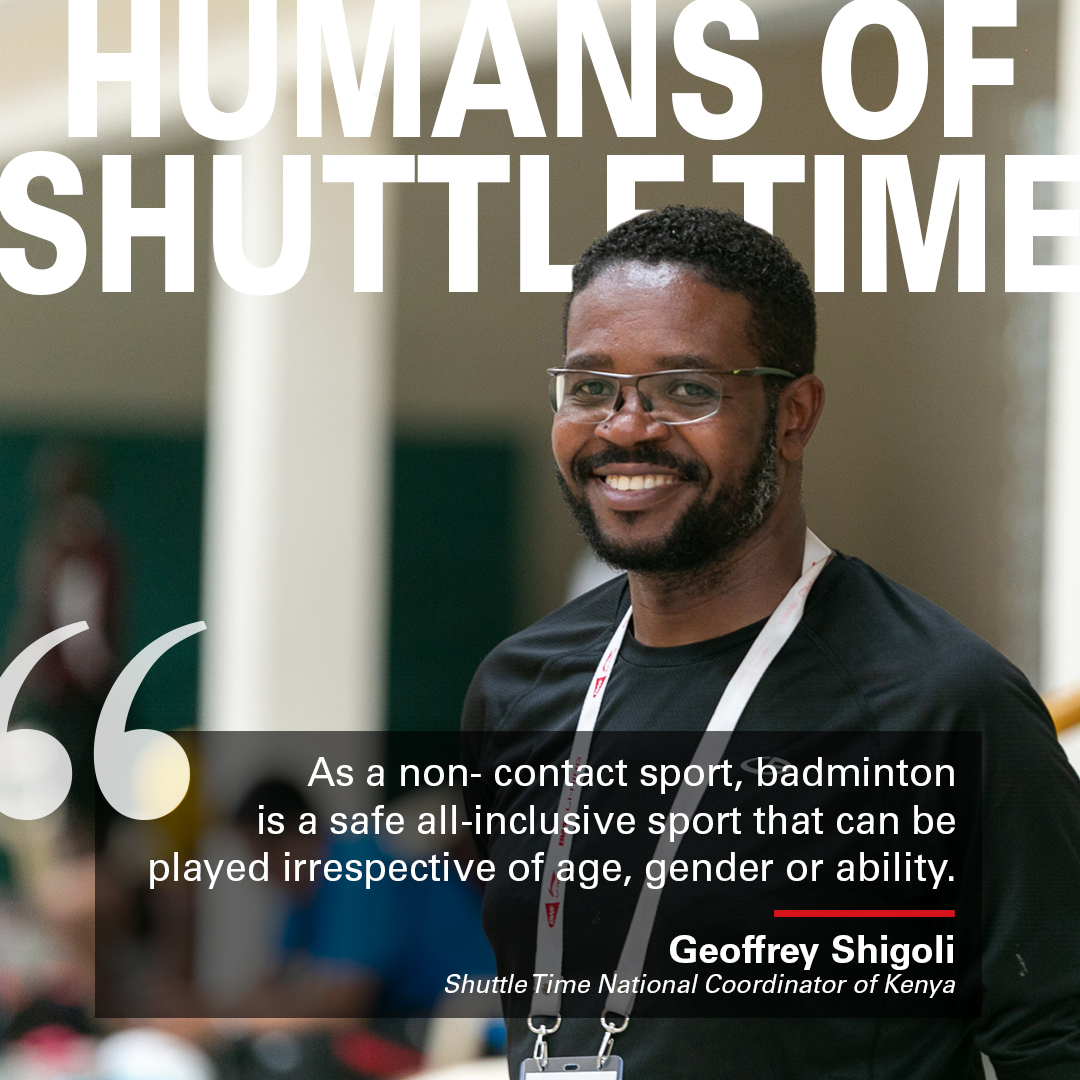 Growing Up
I was born in a family of six in Nairobi in 1976. Eastlands is predominantly a low-income area with a high population well known for the sporting talent it has produced. 
Growing up as a child in this area had its own share of challenges characterised by poor housing, poor schools, lack of sporting infrastructure and adequate social amenities.
As a community we found a common bond in sports utilising the few social halls that were available. We would all assemble at the social hall in the evenings after school and try our hand at the various sports and activities available. These halls were key to our upbringing since they helped in keeping us occupied during our free time. My favourite activities were badminton and drama.
Basic Badminton
It is in these social halls that I first encountered badminton. We didn't have any coaches, know any rules, or even have a badminton court to speak of, all we had were two wooden rackets with worn-out strings and a white plastic shuttlecock which had turned black from being overused and was moving like a rock. We made up our own rules and just had fun. Our favourite game was 'winner stays'. All you had to do was keep the shuttle from falling down when it was your turn to hit it. 
What struck me most is the fun we derived from trying to keep the shuttle in the air as long as we could. The more you were able to keep the shuttle in the air the more you kept playing. Since we only had two rackets being used by almost 20 children at one go, it served us well to keep the shuttle longer in the air so you could play longer. The game was played one-on-one, or girls versus boys.
Competitive Opportunities
It was only after I joined high school that I encountered badminton in a formal structure which made me love it even more. High school also provided competition opportunities with other schools from other regions which made it more competitive not to mention the numerous trips to tournaments.
It was not until I started volunteering for my federation that I found my niche in the sport. I was later recruited through the association's volunteer programme. This also marked my first interaction with Shuttle Time. I was amazed at how easy it was to use the Shuttle Time programme to teach badminton with limited or no resources. My first big Shuttle Time project was implementing the 'Badminton For All' project.
Badminton And Me
Badminton for me is a tool to empower and give back to my community. As a non- contact sport, badminton is a safe all-inclusive sport that can be played irrespective of age, gender or ability. This makes it easier for us to teach the sport in our communities. 
The Shuttle Time project has made a big difference in our region by enabling us to properly equip the teachers with the necessary skills as they are the first contact with our talent. 
The Shuttle Time programme has helped in increasing awareness and popularising the sport in young children. Our 'No Child Left Behind' project has also greatly benefited as we have been using Shuttle Time to encourage differently-abled children to take up the sport. Shuttle Time has taught me a lot – whether on improvising using available resources, or planning for projects.