Badminton Federation of Congo
I was the last child in a family of seven children. I spent my childhood in barracks in various places in Congo (Brazzaville , Mouyondzi, Jacob, Komono , LOutété, Mfouati , Gamboma) where my father, a military policeman, had been posted.
Tryst With Badminton
My first encounter with badminton was in the early nineties in Brazzaville. Some of our elders who had returned from Scotland and the former USSR created the first badminton club at the faculty of sciences in Brazzaville University. I used to go there to watch them play. I was impressed by that new game in Congo.
The first time I saw it, I was attracted by its playful nature. I had fun when I started playing. Just keeping the shuttle in the air during the rally was fascinating.
There was a group of us playing the sport. Soon the game was formalised with the creation of an ad hoc badminton committee in 1998. With the creation of other clubs in Pointe Noire  and Dolisie, the ad hoc committee became Federation Congolaise de Badminton (FECOBAD) in 2000.
We were then the first players of the national team. In 2002 I attended the first coach course sponsored by the International Olympic Committee (IOC) and delivered by Olivier Bime. Since then, I have attended lots of courses and seminars on badminton.
As national coach and then manager, I'm involved in various development programmes throughout the country.
Fond Memories
As far as badminton in concerned, my best memories remain international competitions on the continent. Thanks to them, I could meet players and officials from other countries, assess the level of badminton in Africa, and strengthen relations with colleagues from different countries.
I would like also to mention my multiple trips to China (seminars on high level  technique) since 2011. They allowed me to meet and work with eminent Chinese  coaches and former  national players. I was appointed head of the Africa group in Hangzhou during the seminars on badminton techniques meant for African Francophone countries from 2015 to 2018. To sum up, I would say that badminton has considerably broadened my experiences.
Impact of Shuttle Time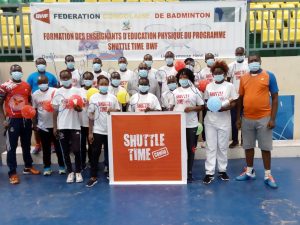 Shuttle Time is an effective tool in the social development in my country. Through that project, we have noticed children's increasing keen interest in the game.
Shuttle Time is actually boosting badminton in our country. Earlier mostly unknown in the country, badminton is beginning to be visible at the national level. The number of players has considerably increased. I can state that Shuttle Time will contribute to the widespread development of badminton in coming years.
The biggest lesson I have learnt from working with Shuttle Time is that school is the appropriate environment for the long term development of badminton in my country.